Today, I am in the process of straightening the bumper.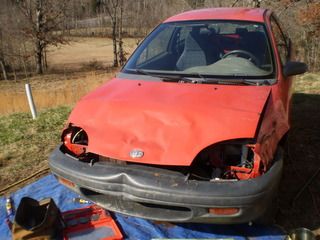 As you can see, there is a large dent right in the center. I noticed this morning that it was more pliable than it had been due to the temperature going up. So I consulted with some experts on the matter, who advised that I make a form of wood, to hold the desired shape, while I applied heat. I couldnt think of a gentle enough heat source, as I only really have a propane blowtorch, or maybe a hairdryer. Then I realized the easiest way, right in front of me:




Solar power to the rescue! I once checked the temp in there at something like 115 F with the doors closed on a hot day. I closed the doors, let the heat built up (briefly!) and the plastic was soft like a rubber tire. I proceeded with the form, clamping it tightly.




The bumper is now shaped almost perfectly. Thank you to the experts who encouraged me in this regard! Thats what makes this place so great.

Reinstalled, looks like this: